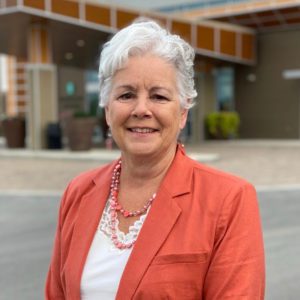 Misty Reber
Vice President for Operations
---
Why I go to work every day?
Going to work every day gives me an opportunity to be part of a driven team, allows me to make a difference and to be part of change and/or improvement. It allows me to have contact with residents & staff who remind me each day why I do what I do.
How did I get here?
I grew up as 1 of 6 children of a military family—my father was a career Pilot in the Air Force. We moved every year to year and a half to a new location. Mainly lived in the tropics-Guam, Puerto Rico, Hawaii, Texas, Florida etc. This way of life thought me how to deal with change, how to organize work & life and to love my family dearly. I grew a passion for cooking & food from my mother who was the best cook ever and could feed a family of 8 frugally. I never went hungry & it became very important to me that no one else went hungry, contributing to food banks is a passion of mine. I have dyslexia which made going to school very challenging but not impossible. I received BS degree Dietetics for Southern Illinois University, Carbondale and MS degree in Adult Educations, Bloomington. When I finished my undergrad degree, I moved to Indiana to work at a hospital in Indianapolis which I did until reimbursement to hospitals changed and my job was getting eliminated. At that time, I asked myself what I wanted to do. Working with Seniors was the answer to what I wanted to do. I started as a Culinary Director in a Nursing home and have stayed in the senior world ever since. Throughout 30+ year career I have been surrounded by folks who saw things in me & believed in me and helped me grow professionally & personally. I have been fortunate to work as Culinary Director, Director of Support Services, Executive Director, Sr. Executive Director, RDO, DO & DVP in the senior word and continue to enjoy what I do & grow.
Why I care about this industry?
Seniors can be the most vulnerable people in our country and at the same time have so much knowledge and history to teach/share. I want to do what I can to protect them, serve them and to learn from them.
Who I really am…
I am a wife to Earl, a career woman, a stepmom of 2 lovely kids and a grandma who adores her 4 grandchildren. I am a glass artist who loves to create with fused glass and stained glass. I find peace when I am on the water, in the early hours of the day & watching the sun rise.