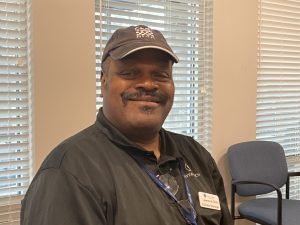 With over 30 years of experience in the dietary and nutritional culinary scene, Chef Lawrence has worked around the world from kitchens in France and Germany to cookeries in famous hotels and restaurants. Today, Chef Lawrence leads the culinary scene at one of his favorite places so far–the kitchen at Silver Birch's assisted living facility in Fort Wayne.
We connected with Chef Lawrence to learn more about his expertise and devotion to making healthy and tasty dishes for Silver Birch's assisted living residents.
1. Why did you become a chef? 
I've been in dietary services for over 30 years. I've worked in other countries like France and Germany. Then I went back to school to be a certified chef because my heart is with long-term care and assisted living facilities. I think that the residents don't always have the opportunities to enjoy great-tasting food. That's my biggest goal. I want the dining experience to be something exciting something new and something fresh.
2. How does it feel to provide meals and put a smile on their faces?
Oh my gosh, that's my whole point of cooking! Whether for residents or my family, it's the opportunity to stand back and know that what I made has been enjoyed and it brings a smile to people's faces. That's the joy I get out of feeding others.
3. How does nutrition play a role in your cooking?
I want to provide a well-balanced, nutritious meal for our assisted living residents. I want to give a nutritionally sound meal. Something that will give them what they need.
I am a certified dietary manager before I got my chef certificate. I know all the aspects. Since I've been there Silver Birch I've started a Birthday Dinner. The residents tell the activity director what they want for dinner and I'll cook it. Then we come out and sing happy birthday to them. We see their face light up and it's their day. It's priceless!
4. What is your favorite meal you've made at Silver Birch?
Well, I love making lasagna and everyone really enjoys it. But, my favorite meals to make are the special Birthday Dinners. The first Birthday Dinner I did at Silver Birch with Miss Lillian. I walked passed her the day before her birthday and asked her what she wanted. She wanted greens and fried chicken. When I brought it out the next day on her birthday she was so surprised. I'm going to give you what you ask for. Everything I make is good. I enjoy what I do. I always tell my staff, "Nothing goes out of the kitchen that you wouldn't want at your table."
5. What it's like interacting with residents?
I love it. I walk amongst the residents and I ask them how things taste. What they tell me I take to heart and incorporate it. If they want something I can think about it and do that. When they see that something they wanted me to make is on their plate they think someone is really listening. I try to bring some elegance to Silver Birch through the food we make for the residents. There's love in it. Think about when you went to your mom's or grandma's house. You felt the love. You know someone took the time to make a meal for you. I want this to matter and I want you to enjoy what I am putting out.
6. Why do you enjoy helping people?
I always treat my residents with respect. I wouldn't have done this job for as long as I've done it if I didn't care. I worked at famous hotels and private restaurants, but my heart has always been in the senior healthcare industry. When I was growing up, I wanted to be a doctor. Today, I'm a doctor of cuisine. When they want my good food I know it'll feed their body and soul.
At Silver Birch, our residents enjoy snacks and three meals a day made by chefs like Chef Lawrence, all served in a restaurant-style dining room to promote interactions. If you're curious about other Silver Birch amenities, contact us to learn more about life at Silver Birch's assisted living facilities.