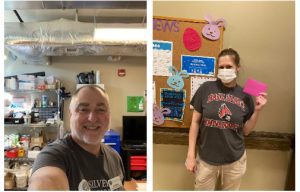 Caring for a home can be challenging for seniors and those living with physical disabilities, which is why assisted living facilities are great options for carefree and maintenance-free senior living. 
Silver Birch Living offers both studio and one-bedroom options for residents across our nine locations and each location has a full staff of maintenance professionals, from facilities to housekeeping. 
Paul Melvin is in charge of maintenance at Silver Birch Living's Terre Haute location. As a professional working in the industry for over 30 years, Paul's job is to help residents with any maintenance requests. 
From making sure the remote is on the right channel to a full-blown apartment renovation, Paul ensures that residents have the help and attention they need when something needs to be fixed. 
"When you move into Silver Birch you have no worries of anything, from fixing anything to cleaning, no matter what it may be. If it's general maintenance, I'm here for that. I want our residents to be comfortable, happy and enjoy their lives without worry," said Paul. 
"The residents that I work with on a daily basis always talk about how helpful the staff is and how much they love it here. Everybody is caring," he added.
Paul noted Silver Birch housekeepers are kind, and professional, going the extra mile to support senior living residents. 
In addition to personalized attention and maintenance or cleaning help, each room at Silver Birch Living has a kitchenette and private bathroom and knowledgeable housekeepers like Tonia Pangallo at the Mishawaka facility. 
In a social media post, the Silver Birch team celebrated Tonia because she goes above and beyond in her role. She has been known to assist in serving meals and even dressed as the Easter Bunny one year!
Experienced and friendly housekeepers like Tonia and others help residents in so many ways.
Since Silver Birch offers free weekly housekeeping and laundry services, which is a huge help to keep life organized yet maintenance-free, housekeepers make sure studio or one-bedroom homes are neat and tidy. 
When all the chores are taken care of, it allows residents to enjoy the other benefits of senior living at Silver Birch including the meals, activities and outings. 
There are many reasons why our senior living residents love living at Silver Birch. The maintenance-free living, adventures and activities help inspire purposeful lives and bring residents together as a community. If you are unsure if assisted living is right for your loved one, contact us and let's discuss the details about life at Silver Birch.